20 Sussex Gardens
Lorraine Harrison
Discover a local paradise by visiting 20 of the loveliest gardens in Sussex. From grand to humble, formal to wild, ancient to modern, well-visited to lesser-known, 20 Sussex Gardens showcases pleasures to indulge every horticultural desire. Whether set amid a grand country estate, public park or working nursery, each garden demonstrates something of the wide-ranging and varied growing conditions across the county. The reader is led through each garden, pausing at spectacular plantings, intriguing stylistic structures and creative landscaping, all of which are described in lively detail. Many of these garden sanctuaries are associated with important historical, artistic and literary figures who made Sussex their home, and brief glimpses of their fascinating lives further illuminate these visits to Eden. All the gardens are open to the public for a long season.
A diverse tour of 20 wonderful gardens from across the entire county, from various historical periods and in every horticultural style.
Special features and specific plantings are described and explained in a mini walk-through tour of each selected garden.
Includes a comprehensive and informative glossary providing invaluable biographical information and explanations of stylistic and technical terms.
A user-friendly guide with the precise location of each garden pinpointed by National Grid References, and advice on public transport and access.
A full listing of other gardens to visit in the county.
ISBN: 978-1-906022-02-0, 187mm x 115mm, 96 pages, 30,000 words, 20 specially commissioned illustrations plus map, hardback, marker ribbon.
Lorraine Harrison
You could have no better tour-guide to Sussex gardens than Lorraine Harrison. She is both a long-time resident of the county and a keen and knowledgeable gardener. Lorraine has a Master's Degree in Garden History from the University of London and has created her own unique Downland garden outside Lewes, so is well equipped to explore these gardens within their historical context. She has written extensively and contributes regularly to Gardens Illustrated and Hortus. Her previous books include The Shaker Book of the Garden (2004).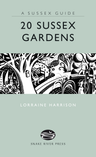 20 Sussex Gardens