A good walk should do more than exercise your heart, lungs and muscles; it should enhance your mood, refresh your soul and leave you knowing a little bit more about your world. There's no better way of getting to know the land than by walking it until you feel it in your bones – even if these do ache pleasantly after one of the more challenging outings. These 20 original walks have been designed by Sussex walk expert Pat Bowen to let you experience every aspect of the rich Sussex landscape from coast to high heathland, and on the way entertain you with historical titbits, anecdotes, nature notes, folk stories, and the kind of insider knowledge that only locals have.
20 original walks graded into simple, moderate and challenging.
Authored by an enthusiastic walk leader with 20 years' experience.
All walk sites accessible by public transport and based on OS maps.
Walks explore coast and countryside, forest and downland.
ISBN: 978-1-906022-06-8, 187mm x 115mm, 96 pages, 30,000 words, 20 specially commissioned illustrations plus map, hardback, marker ribbon.
Pat Bowen
Pat Bowen – grandmother, storyteller, allotment gardener – has been exploring Sussex on foot, bike and public transport since she came to the county in 1969. She has reconnoitred and led hundreds of walks, each one involving trying out different routes and researching landscape, trees, history, creatures, local stories and folklore. She has written articles for various organisations and projects in the fields of World Studies, Storytelling, Environmental Education, Archaeology and Folklore, and has had stories published in anthologies. This is her first book of walks.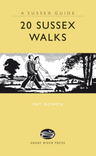 20 Sussex Walks