Bird Watching in Sussex
Rob Yarham, with introduction by Chris Packham
Even if you can't tell a hobby from a handsaw, the sight of a soaring bird over the Sussex Downs always lifts the heart. That's what seasoned bird-watcher Rob Yarham believes, and to help the rest of us to get more out of these life-affirming moments, he has chosen his top 20 Sussex birds and written an affectionate personal tribute to each of them. His descriptions of the birds and his encounters with them will inspire you to go out looking with new eyes. The second-half of Bird Watching in Sussex is devoted to a review of the best sites and places to find Rob's top 20, and many other fascinating birds: Sussex natives, incomers and birds of passage.
Features the author's choice of the county's top 20 birds.
Covers the best sites to see and hear Sussex birdlife.
Gorgeous illustrations that really capture the personalty of each bird.
Foreword by Chris Packham, author, photographer and TV presenter.
ISBN: 978-1-906022-12-9, 187mm x 115mm, 96 pages, 30,000 words, 20 specially commissioned illustrations plus map, hardback, marker ribbon.
Rob Yarham
Rob Yarham has been many things – writer, editor, marketing executive, company director and editor of Beautiful Britain magazine. During that time, the one constant has been his fascination with and love of wildlife, and in particular birds. He pursues them both at home and abroad, but mostly in Sussex, his adopted and much-loved home county. Rob is a member of the Sussex Ornithological Society and edits their newsletter.
Chris Packham
Chris Packham is a television presenter, ­photographer and author with a passionate concern for conservation and the environment. He has travelled the world in pursuit of all the things that slime, sting and scratch but remain close to his heart.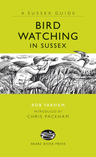 Bird Watching in Sussex