Bloomsbury in Sussex
Simon Watney
This refreshing guide offers Bloomsbury fans a unique insight into the lives of the most innovative and important group of pioneering Modernist artists, writers and designers of the 20th century. Their London homes were destroyed by war-time bombs, but Virginia and Leonard Woolf's house, Monks House, in Rodmell and Vanessa Bell and Duncan Grant's domestic idyll at Charleston provide a lasting and unique picture of the Bloomsbury Group in the early decades of the last century. The Sussex homes where they lived and worked for more than 50 years stand as a testament to the spirit of their remarkably creative muse. Bloomsbury expert Simon Watney examines the enduring importance of these Sussex bohemians through their furnishings, decorations and gardens at Charleston and Monks House and the fascinating murals of nearby Berwick church.
An original study of the Bloomsbury Group through their domestic lives in Sussex.
Interior design, paintings, sculptures and decoration described and explained in mini-walk-through tours of the rooms in Monks House and Charleston.
The murals in Berwick church are expertly described and explained in detail, together with the inspiration behind them.
Concise yet informative biographies help the reader navigate the complex relationships of the key Bloomsbury players.
A user-friendly guide with the precise location of each place pinpointed by National Grid References, and advice on public transport and access.
ISBN: 978-1-906022-05-1, 187mm x 115mm, 96 pages, 30,000 words, 6 specially commissioned illustrations plus map, hardback, marker ribbon.
Simon Watney
After studying Art History at the University of Sussex and the Courtauld Institute in London, Simon Watney has enjoyed a successful career as a writer, lecturer and broadcaster. He has written many books on various aspects of the history of art, photography and design and is an expert on the history and significance of the Bloomsbury Group. His published work includes English Post-Impressionism (1980) and The Art of Duncan Grant (1990) and he is a trustee of the Charleston Trust.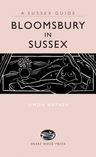 Bloomsbury in Sussex