Ditchling Walks: In Eric Gill's Footsteps
Lorraine Harrison
The starting point for this collection of six walks in and around the village of Ditchling is the wonderful and varied collection of the Ditchling Museum of Art+Craft. After browsing the exhibits, the interested walker can tour the village streets to see the former homes of Eric Gill, Edward Johnston, Frank Brangwyn and many others, while a visit to St Margaret's Church and graveyard will reveal a host of beautiful hand-crafted objects. Follow in Gill's footsteps to Ditchling Common, site of the Guild of SS Joseph & Dominic, then amble across the Common to the graveyard at St George's Retreat. A pleasant stroll out of the village takes the visitor to Streat and the former workshop of Rowland Emett. There is a gentle walk to Oldland Mill: a favourite subject for many artists, including Charles Knight. The more energetic can stride out high up on the Downs to Ditchling Beacon which features in the Christmas classic The Snowman by Raymond Briggs. Short informative biographies of key Ditchling residents provide fascinating background reading while useful information is included to help every visitor get the most out of their time in this most lovely and inspiring of Sussex villages.
Discover Ditchling's most creative landmarks, best paths and nicest pubs.
Enjoy the much acclaimed and varied collection of Ditchling Museum of Art+Craft.
See former homes of Eric Gill, Edward Johnson, Frank Brangwyn and many others.
Stride out on six circular walks to exercise both mind and body.
ISBN: 978-1-906022-20-4, 187mm x 115mm, 92 pages, 30,000 words, 7 specially commissioned maps plus original Eric Gill woodcuts, hardback, marker ribbon.
Lorraine Harrison
Lorraine Harrison studied illustration at Brighton College of Art in the 1980s where both Raymond Briggs and John Vernon Lord were her tutors. After working as a freelance illustrator for many years she returned to study: first gaining a Batchelor's Degree in History of Art from the University of Sussex then later a Master's Degree in Garden History from the University of London. Her recent publications include Latin for Gardeners (2012) and Heirloom Plants (2016). Ditchling Walks is Lorraine's third book for Snake River Press and combines her love of walking in the Sussex countryside with her interest in 20th-century British artists.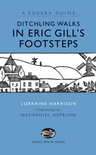 Ditchling Walks: In Eric Gill's Footsteps