Good Food & Drink in Sussex
Fizz Carr, with introduction by David Dimbleby
Not just another book about where to eat posh in Sussex, this is the real deal: an insider's investigation of the provenance, history and future of food ingredients and production in the county. Seven fat chapters cover meat, fish, dairy, fruit and vegetables, bread and cakes, sweets and chocolate, and wine and beer. We find out about the Isle of Wight rain shadow and its effect on Sussex vegetables, who invented the greengage, and why West Sussex is suddenly the chocolate mecca of the south. Fizz Carr blends a delicious recipe of history, local knowledge and a real understanding of the how and why of food; and she's not afraid to tell it like it is, pointing out that no-one would tackle a Sussex lardy john unless they were planning to go out immediately afterwards and scranlet the bottom acre, like Reuben Starkadder.
Written by the co-author of The River Cottage Family Cookbook, the Guild of Food Writers cookery book of the year 2006.
Includes 5 original Fizz Carr recipes using local ingredients.
From-the-horse's-mouth interviews with local chocolatiers, patissiers, dairy herders, cheesemongers, organic vegetable growers, fishermen and farmers.
Foreword by David Dimbleby.
ISBN: 978-1-906022-11-2, 187mm x 115mm, 96 pages, 30,000 words, 20 specially commissioned illustrations plus map, hardback, marker ribbon.
Fizz Carr
Fizz Carr was born in Rottingdean and after reading Classics at Exeter University, and enjoying a publishing career in London, returned to Sussex to farm with her husband and partner, Stephen, on the South Downs. Bringing up five daughters on the farm Fizz became alarmed at how little many of her children's non-farming peers knew about where food came from and how it was produced, which is why she was pleased to co-author The River Cottage Family Cookbook (2005) with Hugh Fearnley-Whittingstall, reminding readers of the importance of sourcing humanely reared meat and locally sourced fresh ingredients wherever possible. Good Food & Drink in Sussex is her second book.
David Dimbleby
David Dimbleby, broadcaster, TV presenter, documentarist and member of the great Dimbleby dynasty, lives in Sussex.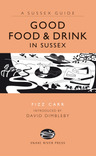 Good Food & Drink in Sussex