Inspiring Sussex Gardeners
Lorraine Harrison, with introduction by John Brookes
You've seen the county's glorious gardens, now find out about the garden designers, plant hunters and botanical brains behind them. What makes their green thumbs prick, why do they feel so passionate about all things horticultural? There are as many types of gardener as there are styles of garden, and Lorraine Harrison has done well to fit so many into such a small plot, from the well-known – Rudyard Kipling, the Lloyds of Great Dixter and the Loders of Wakehurst and Leonardslee – to the obscure, such as Oliver Cockerell and Helen Nussey with their French hotbeds. We look at the gardeners behind public parks and spaces and those whose small private paradises are so enthralling, catch some of Angus White's boundless enthusiasm for his architectural plants and even peer over the county fence to look at Derek Jarman's wonderful painterly garden in Dungeness. And there's a directory of those who didn't make first prize in the show. With a foreword by the renowned John Brookes, doyen of garden design, this is an unmissable guide for gardeners of both the armchair and dibber-wielding kind.
Features both historic and contemporary garden pioneers.
Interviews with living Sussex gardeners.
Includes plant hunters and horticultural theorists.
Foreword by John Brookes, award-winning garden designer and author.
ISBN: 978-1-906022-13-6, 187mm x 115mm, 96 pages, 30,000 words, 19 illustrations plus map, hardback, marker ribbon.
Lorraine Harrison
Lorraine Harrison is the author of 20 Sussex Gardens, one of the first titles in the SRP collection. A long-time resident of Sussex and a very knowledgeable gardener herself, Lorraine has an MA in Garden History and contributes regularly to Gardens Illustrated and Hortus when not out tending her Downland paradise. In this second venture for SRP she explores the lives and personalities of the hands-on gardeners and horticultural theorists who have helped, and are still helping, to make some of the great and varied gardens of Sussex.
John Brookes
John Brookes, MBE, is an internationally renowned garden designer who lives and works in Sussex, and the author of many influential gardening books.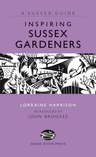 Inspiring Sussex Gardeners