Old-Fashioned Family Days Out in Sussex
Susan & Gina Jamieson, with introduction by Jane Hissey
If you're on a tight budget, or if you simply want to have fun at a slower pace, mother-and-daughter team Susan and Gina Jamieson show you the way. Old-Fashioned Family Days Out in Sussex contains 20 fun-filled family outings around the county that everyone can enjoy for free. They cover coast, forests, countryside, grand houses and intriguing little local museums and parks. Some of our 'days out' need more energy and stamina than others, some are rainy-day treats, but each one will engage hearts and minds. To help make the outings more hands-on, Susan and Gina have included the occasional nostalgic recipe, games to play and tips on how to create your own props at home before setting out. Get ready for some genuine old-fashioned fun that you can treasure forever.
Leads you back to the simple pleasures of pooh-sticks, rockpools and kite-flying.
Full of imaginative ideas for places to go and what to do when you get there.
Guaranteed to banish boredom and create lifelong happy memories.
Foreword by Jane Hissey, celebrated author and illustrator of children's books.
ISBN: 978-1-906022-18-1, 187mm x 115mm, 96 pages, 30,000 words, 20 specially commissioned illustrations plus map, hardback, marker ribbon.
Susan Jamieson
Susan came from the Midlands to Brighton Art College in the 70s, and couldn't believe her luck to be living by the sea. She set up a ceramics studio right down on the beach, where for 16 years, through hurricanes and heat weaves, she and her husband produced decorative pottery. In recent years, Susan has worked in a local pre-school and has become fascinated by child development, and how to spark that early creative flame. Gina Jamieson is her fourteen-year-old daughter.
Jane Hissey
Jane Hissey has written and illustrated over 20 books for children and a BAFTA award-winning television series, Old Bear Stories. She lives in Sussex with her illustrator husband, Ivan, and the youngest of their three children.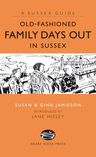 Old-Fashioned Family Days Out in Sussex