Sussex Music
Marcus Weeks, with introduction by Gavin Henderson
Did you realise that Claude Debussy wrote his haunting La Mer in an Eastbourne hotel room? That Winifred Wagner, wife to Siegfried, was born in Hastings? That Sussex is the only county to have its own anthem – Sussex by the Sea? There is (and always has been) a lot of music in the county, but Sussex musos can be disarmingly modest – not ones to blow their own trumpet – which can give a false impression of the wealth of music in our county. This book aims to redress the balance, proudly proclaiming our musical heritage and pointing out the often surprising contribution Sussex has made to music in Britain and indeed worldwide. Covering everything from folk, classical music and the mixed bag of popular music from jazz to music hall to rock, there is something for everyone to hum along in Sussex Music.
Covers all musical genres.
Written by bona fide practising Sussex muso.
Contains all the words of Sussex by the Sea, the county's very own anthem.
ISBN: 978-1-906022-10-5, 187mm x 115mm, 96 pages, 30,000 words, 20 specially commissioned illustrations plus map, hardback, marker ribbon
Marcus Weeks
A Sussex musician born and bred, Marcus Weeks is completely in tune with the county's ear. Brought up in the hotbed of bohemian talents that has long inhabited his native Hastings, he has been immersed in Sussex music all his life. At various times a composer, arranger, trombonist, conductor and bandleader, not to mention piano tuner and restorer, and as happy with classical, folk, jazz and rock music, Marcus gives an insider's view of the rich and rousing repertoire of Sussex music, from Glyndebourne to the (now smoke-free) jazz clubs, from naughty 17th-century choirmaster Thomas Weelkes (no relation?) to postpunk goth rockers The Cure, and everything in between.
Gavin Henderson
Professor Gavin Henderson CBE, a Sussex native, is the Principal of The Central School of Speech and Drama in London.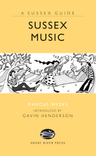 Sussex Music