Sussex Wildlife
David Mortimer, with introduction by Dr Tony Whitbread
Luckily for us we live in a county blessed with a naturally variable landscape: we have chalk cliffs, rolling grasslands, small fields, open heathland, forests, wetlands, rivers, ghylls and the sea. This almost infinite variety gives rise to an embarrassing richness of wildlife – everything from bats at Ebernoe to bitterns at Rye, gnarled ancient yews at Kingley Vale to dyer's greenweed at Bedelands, beewolves in Hastings to tiger beetles in Stedham. So, where to look first? Let Sussex Wildlife lead you to the best spots to discover rare plants, observe endangered species of insects and animals and enjoy unique and special habitats. Fully approved and endorsed by the Sussex Wildlife Trust this exquisite book is comprehensive, inspiring and a must for all wildlife enthusiasts, whether out in the field or sitting comfortably in an armchair, recollecting in tranquillity.
Covers the whole county from west to east.
Offers 20 contrasting wildlife sites open to the public to visit.
Features a seasonal highlight listing for each site.
Foreword by Dr Tony Whitbread, Chief Executive of the Sussex Wildlife Trust.
ISBN: 978-1-906022-09-9, 187mm x 115mm, 96 pages, 30,000 words, 20 illustrations plus map, hardback, marker ribbon.
David Mortimer
David Mortimer, a long-time Sussex resident, is a seasoned author of sports and children's books. His first love is undoubtedly cricket, for which he has a barely controllable passion, but he is equally passionate about the natural world; as a keen amateur conservationist, David is an enthusiastic volunteer in the Sussex Wildlife's Trust's Conservation Hit Squad, a redoubtable corps of dedicated rake wielders who go out in all weathers and at all hours to protect and conserve endangered habitats. His infectious enthusiasm for his subject will make you want to fling away your dreary whitewash brushes, like Moley in The Wind in the Willows, and rush out to see for yourselves.
Dr Tony Whitbread
Although a native of Essex, Dr Tony Whitbread has lived in Sussex since 1987, and is now the Chief Executive of the Sussex Wildlife Trust, The Trust was formed in 1961, and is now the largest conservation organisation dedicated to conserving the natural heritage of Sussex.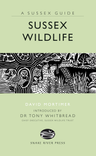 Sussex Wildlife