Everybody knows about Virginia and Vanessa, but did you realise that Sussex is (and always has been) the birthplace, home or workplace for many more inspiring, intriguing and formidable women – from royal mistresses to pioneering women doctors, and from educators and philanthropists to Brighton 'dippers' and cross-dressing music-hall stars? There's an impressively large pool of Sussex sisters who have been doing it for themselves over the centuries; Ann Kramer has selected 30 of the best and brings them to vibrant life in a browsable collection of concise, informative and entertaining essays designed to make you want to find out more.
30 brief but entertainingly informative biographies of inspiring Sussex women.
Tips and pointers on where you can find out more about the women and their work.
Written by a Sussex woman and published author of feminist history.
ISBN: 978-1-906022-07-5, 187mm x 115mm, 96 pages, 30,000 words, 20 specially commissioned illustrations plus map, hardback, marker ribbon.
Ann Kramer
Ann Kramer, writer, historian and feminist, was born and brought up in London. She arrived in Hastings for a temporary stay but, loving the sea, the beach and the bohemianism, is still there 30 years on, making her an honorary Sussex woman. She has written or contributed to more than 40 books, including general reference, history and politics, but is particularly interested in women's history. Recent titles include Women and War (2004); Eleanor of Aquitaine (2006); Behind the News: Human Rights (2007).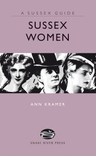 Sussex Women