Sussex Writers & Artists
Edward Lucie-Smith
Endlessly entertaining and informative, Sussex Writers & Artists is a collection of crisp and concise biographies of writers and artists with a Sussex connection. Over the centuries a substantial number of the nation's foremost creative figures have had their lives and work touched by the shaping spirit of Sussex. There have been some surprisingly varied reactions: Blake hated the place, Kipling fell in love with it, Bell, Grant and the Woolfs turned it into a place of literary pilgrimage and John Constable just came for a holiday. Whether it's Beardsley, Belloc or Blake, Edward Lucie-Smith animates their lives and work in a riveting set of illuminating and revealing stories.
The lives of more than 40 of the county's foremost writers and artists expertly summarised by art historian and poet Edward Lucie-Smith.
The Sussex connection is described and the lasting influence the county had on each artist's work assessed.
A lively text sets this once-remote corner of England firmly within its social, cultural and historical context.
Includes shortlists of recommended works for each artist and writer to encourage the reader to explore further.
Covers writers and artists from the 18th to the 20th centuries.
ISBN: 978-1-906022-01-3, 187mm x 115mm, 96 pages, 30,000 words, 20 specially commissioned illustrations plus map, hardback, marker ribbon
Edward Lucie-Smith
Edward Lucie-Smith is a highly respected author, journalist and broadcaster. He began his literary life as a poet, but is better known as an art and design historian, critic and curator. The author of numerous biographical critiques, art histories and general reference books, he travels the world lecturing and writing. His particular area of expertise is the history of eroticism in art and his works include the major classics Sexuality in Western Art (1991) and Race, Sex and Gender in Contemporary Art (1994).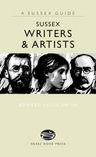 Sussex Writers & Artists